From time to time L'Escarbot Kennels is recognized by various hunting and dog publications. This page features those acknowledgments as well as photos from professional photographers.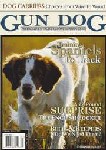 Publication: Gun Dog
Date: April/May 2003 Issue *PLEASE NOTE THE PRICE FOR PUPPIES MENTIONED IN THIS ARTICLE DOES NOT REFLECT THE CURRENT PRICE
Article Description: The French Brittany: Big Dog, Small Package.
Link: Click Here to Link to this article
Professional Photos (click to enlarge)
Photos by: Jerry Thoms