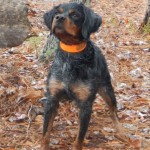 Dogs Name : Julian Bashir De L'Escarbot
Sire: Holter De L'Escarbot
Dam: Hazel De L'Escarbot
Owners Jim and Fatmi Anders
Achievements:
(1) 11/7/2015 on the grounds of the Rappahannock Chapter of NAVHDA in Virginia, Bash scored a Prize 1 (110 of 112 points) in the Natural Ability (NA) test.
(2) 12/5/2015 on the grounds of El Consuelo Farm in Quincy, Florida, Bash was recognized by the Field Trial Judge for his High Natural Qualities(HNQ). At the same venue, Bash
was also awarded his TAN.
(3) 2/9/2016 at the CEB-US National Epagneul Breton Specialty Show in Muscatine, Iowa,
Bash won Reserve Best Male of Variety Other Color.
(4) 12/10/2016 in Spring City, Tennessee, Bash received a 1st Place (CAC) in Gun Dog Solo
and an overall 1st Place (CAGT) in the GUN Class by winning the barrage. On 12/11/2016 at the same event, Bash was awarded a PASS in Gun Dog Solo.
(5) On 2/11/2017 on the grounds of Cedar Ridge Farm near Winston-Salem, North Carolina, Bash received a 1st Place (CAC) in Gun Dog Solo.
(6) On 3/25-26/2017 at the 2017 CEB-US Liberated Nationals and Specialty Show in Central Illinois, Bash received an excellent in conformation, a 1st Place (CAG) in Gun Dog Solo on March 25th and a  Reserve Placement (RCAG) on March 26 in Gun Dog Solo.
(7) On 8/26/2017 at the Northern Plains Epagneul Breton Gun Dog Club trial
near Timber Lake, South Dakota, Bash passed his Water Retrieve Test (WRT).