Good morning, John,
Here are some pics of Lyric at 11 months…time has flown by!  She is still just a delight…so smart, pretty, athletic…probably the best pup I've ever owned.  She is well on her way to doing AKC junior hunter…I plan to enter her in September at the DesPlaines Conservation Area for the G. Shorthair Pointer Club of IL.  That is where I finished Meg's jr. hunter so I know the area fairly well.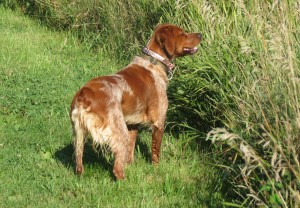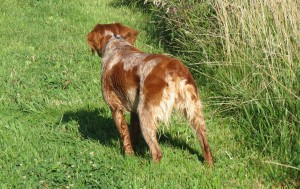 Lyric is also a star in agility.  She is too young to compete…I plan to try her first trial next spring.  We are in a class of foundation work…she does all the obstacles and she is understanding "sends" to obstacles and tunnels…we are working on sends to jumps.  I have just started her on weavepoles here at home…I usually wait until a pup is 1 year old to make sure growth plates are sound as doing weaves puts pressure on a pup's spine as well as leg joints.
Once again, thank you for allowing me to own such a wonderful girl….I love her to bits.  She is perfect in the house with the other two girls…they have taught her proper house behavior and she travels well.  She goes to every agility trial with Meg and me and is always popular with the other handlers…she is well socialized.
Marcia Whitmore (IL)