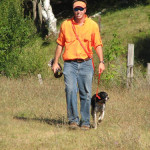 Ubu de L'Escarbot ("Boo") – FIRST EVER FRENCH BRITTANY SPANIEL NAVHDA VERSATILE CHAMPION
Not only did Boo get her Versatile Champion title, she was one of only a few dogs who got a perfect score!
The highlight was the last event. She was required to watch a live shackled duck flung into the air while I blanked it. After the duck hit the water 70 yards away, I sent her for the retrieve. The duck took off and Boo went the completely wrong way. She covered over 600 yards of lily pad infested water, almost caught two wild ducks, and took 19 of the possible 20 minutes before she emerged in front of the gallery with a duck in mouth. The duck had hit land and crawled 40 yards up a hill towards the gallery. People were standing and cheering for 30 lb. wonder dog.