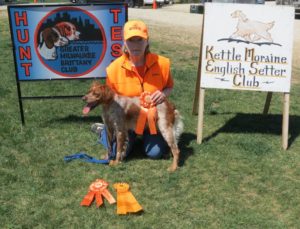 Good afternoon, John,
I think you bred the most wonderful EB on the planet!  Lyric finished her AKC Junior Hunter this afternoon at the Kettle Moraine English Setter Club/ Greater Milwaukee Brittany Club hunt test at the Ottawa Fieldgrounds in Eagle, WI.  She needed 3 passes to finish and she did it in style.  Her scores were 9,9,6,7, 8.8.6.7 and 8.8.8.8.  She got lots of attention…she was one of two EBs at the test and she was just outstanding…comments were…"Boy, does she have a motor!"  "Intense drive," "Gret pointing ability."  Now we concentrate on agility and start work on Senior Hunter.
I don't know how you picked the right pup for me but you sure did.  We just love her.  She continues to be an absolute lady in the house and is so intelligent and willing to learn.
I'll keep you posted on her beginning agility career…I have her planned to start competing in August.  She is learning so fast and just loves the game so I see a great future for her in that sport…as well as field.
Once again, thank you for allowing me to share my life with such a wonderful pup!
Marcia Whitmore
Lyric de L'Escarbot TAN JH