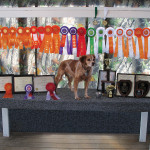 Dog's Name: TR Vigueur de L'Escarbot NA Pz1, UT Pz2, MH
Sire: Toy De Saint Lubin
Dam: Souris Du Clapet Aux Bartavelles
AKC # SR17846802
Birthdate: 05-31-04
Sex: Female
Color: Orange Roan
Owner: Douglas Lodermeier Sr. & Christine Martatos
Breeder: John & Bruce Mooney
Epagneul Breton "Elsie" Masters Three Registries
By Doug Lodermeier Sr.
In September of 2012, TR Vigueur de L'Escarbot, MH, NA PZ1, UT PZ2, completed mastering three registries  "hunt/field" criteria with her Utility Prize (UT) in the North American Versatile Hunting Dog Association  (NAVHDA). Previously Elsie received titles denoting that of a finished dog in both UKC, and AKC registries.  She is also a member of the St. Croix Valley Brittany Club Hall of Fame.
In all, Elsie has earned 9 individual titles within the three registries. Elsie has earned her UKC Trialer title, AKC  Junior, Senior, and Master Hunter tiles, and NAVHDA Natural Ability (NA) Prize 1, as well as 2X Utility title  (UT), Prize 2 and 2X UT Prize 3. Elsie finished one point short of the coveted Prize 1 twice which would have  made her eligible for the NAVHDA Invitational, the highest testing venue for a dog within that registry. It is thought that Elsie is the first and only Epagneul Breton to accomplish all three of these milestones.
Elsie will begin training for the Utility Test again in early 2015 in an attempt to gain her UT Prize 1 and make a  trip to the NAVHDA Invitational.  All of this has to wait of course as Elsie is starting the hunting season. After all, she is a hunting dog first and foremost!
Achievments:
NAVHDA NA Pz1
2x NAVHDA UT Pz3
2x NAVHDA UT Pz2
AKC JH
AKC SH
AKC MH
UKC TR
Hall Of Fame Field Dog – St. Croix Valley Brittany Club, 2011
June issue of Club L'Epagneul Breton of the United States magazine. (edited).