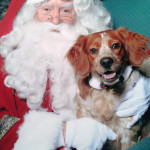 Hi John,
Just wanted to send you another update on Zephyr (Jesper de L'Escarbot), as we are excited to celebrate his very first Christmas with us! Thought you'd also enjoy his picture with Santa we got taken at Petco a few weeks ago, which I've attached! He got lots of compliments from everyone he met that day — he's such a handsome and well-behaved boy!
Zephyr will be starting his third level of obedience courses in January as well! He just completed his second one for older puppies last weekend and passed with flying colors! Definitely the smartest puppy in his whole class…he has amazing focus, impulse control, and absolutely loves to please, which really sets him apart from the other dogs, in my opinion. He truly enjoys learning new things! In fact, we are currently on the track to earning his Canine Good Citizen and therapy dog certification!
I hope all is well with you! Have a merry Christmas!
Sincerely,
Alyssa Elbert IA