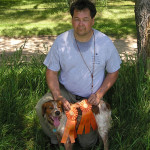 Vernon de L'Escarbot, son of Souris du Clapet aux Bartavelles (France) and Toy de St. Lubin (France), received a qualifying score each day, for the first 2 legs of Junior Hunter at AKC Hunt Test held at Kelly Farms June 18 and 19, 2005.
Producer: John and Bruce Mooney.
Owner: Mark Dinsmore.